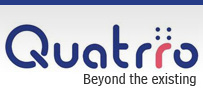 email
Client Testimonials
Financial Process Outsourcing (FPO)
"Our project implementation and transition was quite smooth. Quatrro always responded well whenever there was an issue to be sorted out."
- Levi Strauss, Asia Pacific Division
"I've always been pleased with FPO Solutions because their people are very supportive and are always willing to listen. Their accountant also takes the initiative and calls us with her questions or suggestions. I also feel that FPO understands our needs as an independent store. For example, the layout of their reports is easy to follow and works well with Auto Parts Industry."
- Lynn Waterman, McKinney, Texas
Click here to read more testimonials for Financial Process Outsourcing >>
"I'm very pleased with the way FPO Solutions has handled the relationship with our store. I'm an analytical guy who deals with numbers, and they have maintained and improved the consistency and quality of their financial reports. Because their people are familiar with our business, they are able to help us interpret our data and identify trends, and they respond when we need additional information. The current economic climate has presented us with many challenges for controlling costs and maintaining profitability. The experienced staff has provided us with ideas and recommendations that have contributed greatly to helping us protect our bottom line. I would highly recommend FPO Solutions for their professionalism, efficiency and affordability."
- Mike Rothwell, Pennington Quality Market, Pennington, New Jersey
"We are very pleased with our decision to partner with FPO as our outsourced accounting provider. They have a dedicated and efficient team who were able to complete my implementation within 3 weeks from the day we finalized the purchase of our restaurants. Their timely delivery of our financial statements has allowed us to make informed decisions and react quickly to make any necessary changes."
- Carlos Sarria, Managing Owner (former VP Company Operations-BK Europe)
"Quatrro FPO Solutions took over our accounting at Jane Addams Hull House (HHA) in January, 2006. At HHA, we have been able to maintain reporting for optimum receipts and manage vendors to maximize cash flow benefit. Quatrro FPO worked hand in hand with Executive and Board leadership in a mission to margin process to ensure fiscally responsible, strategic decision making to the degree the Board and Executive team demands."
- Mischelle Causey-Drake, COO/Chief Legal Counsel,Jane Addams Hull House Association
"Many retailers use accountants with less of a retail focus whom seldom meet their expectations. FPO, as my partner, exceeded my expectations with their retail background expertise. They believe in total quality and deliver timely financial statements. I would highly recommend their services."
- Independent Midwest retailer
"We use FPO for accounting and bill paying. Their service is fantastic. It's a pleasure to work with FPO because they understand the grocery business, not just the numbers the business produces. They drill down on specific issues and are able to compare your store performance to others in the industry. And they are quick to point out when you are doing something right!"
- Thriftway multi-location store owner
"We contracted with FPO and handed them a seriously flawed accounting system. A month and a half later, they had us ready to present a credible budget to our Board. One year later, the budgeting process is far easier than it has been. It is the basis for better planning and control than we have ever had, and provides a great deal of comfort for those of us who live with numbers."
- Board Chairman of youth organization
"We rely on FPO to help us get to where we need to be with our financial processing. Running a profitable business that attracts repeat customers is up to us."
- Midwest multi-location restaurant franchisee
"FPO Solutions came to our attention, based on several of our franchisees recommendations. They have dedicated the times and resources necessary to understand our needs and issues specific to our franchisee system. Most providers do not commit the resources to do this. They are very proactive in finding and recommending solutions and in providing the resources necessary to service our needs."
- National Foodservice Co-op
Risk Management
"Superb One Year of Outstanding and Error Free Performance. As the one year anniversary of Quatrro's go live production date for DCFP approaches, I would like to take this opportunity to thank everyone for your hard work and dedication. The partnership between DCFP and Quatrro has allowed us to increase our productivity and decrease losses related to fraud. I truly appreciate everything you have done to help DCFP meet our objectives of decreasing losses while also minimizing negative customer impacts caused by temporary blocks to debit cards. It has been an honor to work with Quatrro over this past year and I look forward to continued success. Please pass my thanks and well wishes to the entire group."
- Risk Operations Manager, Debit Card Fraud Prevention, Large US Global investment banking and securities firm
Click here to read more testimonials for Risk Management >>
"Houston site was facing a severe weather event. Quatrro was a major part of making sure that our businesses continued with as little interruption as possible. Folks!! Hats off to each of you for pulling off a great recovery of Houston today. My fellow colleague joked with me today about why we didn't have row boats in our contingency plans. Short of having stashed some boats in various locations around greater Houston, I thought you did a remarkable job pulling through and get back to BAU with as little repercussion for bankers and customers as possible. Really wonderful to see the team pull together to such great effect.."
- Retail Head, Large US Global investment banking and securities firm
"Thank you for the tremendous job you and your team have done for Check Fraud. It has been a pleasure working with you and your entire team at Quatrro. The level of professionalism, dedication, and strong work ethic has been graciously received. The team has consistently delivered on requests, performed well on our expected business metrics, and been responsive to our business needs. Thank you for your support. I will miss our working relationship and hope that our paths cross again in the future. Please relay my gratitude and well wishes to all your staff."
- Senior Vice President, Operating Loss Prevention, Large US Global investment banking and securities firm
Knowledge & Information Services (Scope)
On Scope's Professionalism:
"Setting up and running large scale data acquisition, producing high quality output and a well controlled project is an achievement very few suppliers (despite the experience they claim) seem to be able to make. Outsourcing can be a serious headache if it goes wrong. It is the professionalism of your project management and the helpfulness and approachability of the people involved in working together that makes working with Scope quite painless."
Click here to read more testimonials for Knowledge & Information Services (Scope) >>
On Project Management:
"You are being very flexible and responsive. I understand you and your team are putting in long hours on short notice. It is appreciated.

I continue to be impressed with your work ethic and desire to build a strong relationship. Thank you for the presentation."
On Skill Sets & Quality:
"The general information is well sourced. The financial information had been well researched. The format was perfect, and the commentary in the services section was well presented (in fact better than we are used to)."
Interactive Entertainment (Babel Media)
"It's been a real pleasure working with Babel this year. They have lifted a weight off our shoulders with a number of key titles and we really appreciate all the help and support they have given to us"
- Sony Computer Entertainment Europe
"Quite frankly we would not have made it without Babel - so a hearty thanks, especially to the translation and test teams."
- SEGA
Click here to read more testimonials for Interactive Entertainment (Babel Media) >>
"I was very impressed with the level of professionalism and efficiency that I witnessed."
- Hudson Entertainment
"Babel are a vital partner, they understand our needs and always respond."
- THQ Wireless
"We would not have been able to meet our Java VerifiedT commitments without the sterling support and performance of your guys, many thanks for the work you have put in so far!"
- I-play
"Babel had everything deployed by premier night, which was fantastic."
- Sony Pictures Entertainment
Banking & Financial Services