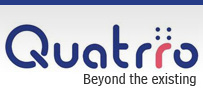 email
Corporate Overview
Quatrro is a global services company offering business and knowledge processing services to organizations seeking higher operational effectiveness, greater flexibility and lower operating costs.
For over 21 years companies have been relying on us to leverage the benefits of globalization and gain a competitive advantage.
Quatrro consists of several complementary business lines, each one intensely focused on serving the needs of its target clients with technology-based, expert knowledge services while leveraging the overall resources of Quatrro – operational excellence, global infrastructure and capital.

As a true "Business Transformation Partner" Quatrro leverages its experience as "the pioneers in Business Process Outsourcing" to offer innovative outsourcing solutions which go well beyond labor arbitrage and deliver tangible process improvements to its clients.

Quatrro's biggest differentiator is our commitment to provide "Value Through Innovation" utilizing a combination of proprietary tools, platforms and unique business processes. This enables us to offer end-to-end solutions while lowering our clients' operating costs.
With seven operation centers in two countries, Quatrro is a top-ranked BPO/KPO supplier providing global scale with 24/7 service delivery capability and built-in redundancies for data privacy and security.
Over 80 enterprise clients, 15,000+ SMB & SOHO customers, 1,000,000+ retail customers around the globe have chosen Quatrro to help them attain the benefits of global sourcing, operational excellence and cost-effectiveness.
Banking & Financial Services
Quick Links