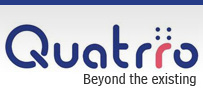 email
Quality Philosophy
Quatrro is the youngest organization to receive the Certificate of Registration to ISO/IEC 27001:2005 and compliance with the Data Protection Act, UK, 1998.
Quatrro's reputation for the highest quality in the industry comes from the adoption of best practices, established models and methodologies and an uncompromising approach to excellence in delivery. Quatrro's vision is to deliver 'best-in-class' performance on client CTQs (Critical to Quality) measures. At Quatrro we believe that a Quality strategy is only as good as its implementation. As such, we pursue a relentless focus on implementation and Quality reviews are conducted at the highest levels of the company.
Our strategy is to 'design-in' Quality by leveraging powerful tools such as Six Sigma infrastructural processes and by applying improvement methodologies such as Six Sigma, Lean and Kaizen in a seamlessly integrated manner. Distinct features of Quatrro's Quality model include dedicated Six Sigma Black Belt consultants, certified Six Sigma Green Belt operating managers and associate training in the application of basic quality tools.
The model below demonstrates Quatrro's Business Excellence Framework: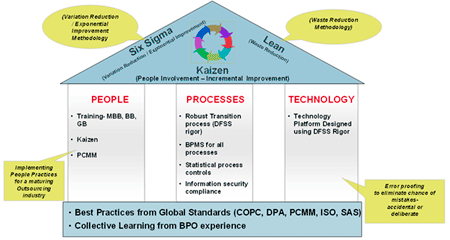 Deployment Strategy
Dedicated team of Six Sigma Master Black Belts/Black Belts for each Business Line (Ratio 1:100)
Lean, Six Sigma (Green Belt) and Kaizen training for all managers
Robust project selection methodologies focusing on client needs
Six Sigma infrastructure processes for all operations
Strategic consulting support for clients
Industry Certifications and Assessments
Certifications / Assessments


Description
ISO/IEC 27001:2005
Name of Certification /Assessment Body: BSI (British Standards Institute)


ISO 27001 is the global standard certification for information security
Certified by audit of BSI (British Standards Institute)
Quatrro is the youngest company to simultaneously certify for ISO 27001 and DPA
Data Protection Act, UK, 1998
Name of Certification /Assessment Body: BSI (British Standards Institute)

Data Protection Act, 1998
Certification means the organization has the required controls to properly protect the confidentiality of sensitive consumer information
PCI-DSS 1.2
Name of Certification /Assessment Body: SISA


PCI DSS (Payment Card Industry Data Security Standard), and is a worldwide security standard assembled by the Payment Card Industry Security Standards Council (PCI SSC)
PCI security standards are technical and operational requirements created to help organizations that process card payments prevent credit card fraud, hacking and various other security vulnerabilities and threats. The standards apply to all organizations that store, process or transmit cardholder data
PCI DSS2 is the latest version of the standard and Quatrro is the first, fastest and youngest BPO to certify to that standard
The standard has 200 controls which are highly granular to meet the stringent data confidentiality requirements of the Payment Card industry
Banking & Financial Services
Quick Links