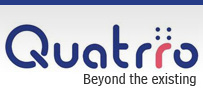 email
Welcome to Quatrro!
Quatrro is a global services company offering business and knowledge processing services to organizations seeking higher operational effectiveness, greater flexibility and lower operating costs.
For over 21 years companies of all sizes have been relying on our capabilities to leverage the benefits of globalization and gain a competitive advantage.
Quatrro consists of several complementary business lines, each one intensely focused on serving the needs of its clients with technology-based, expert knowledge services while leveraging the overall resources of Quatrro – operational excellence, global infrastructure and capital.
With more than 80 enterprise clients, 15,000+ SMB & SOHO customers, 1,000,000+ retail customers around the world, our leadership team is known as "the pioneers of the Indian Business Process Outsourcing industry." read more »
Banking & Financial Services